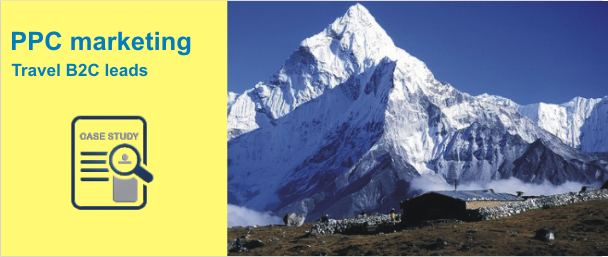 Pay per Click cost optimization for Travel agency in Dallas, TX
Travel business is getting more competitive and companies are luring with low cost air tickets and travel package online, our client is based out of Dallas, TX is strong player in offering specialty guided tour to exotic destination like Himalayas, Tibet, African Safari.
Problem
They were spending around more than $20K each month to reach out new potential travelers and the conversion rate was around less than 0.5% on 4000 click received each month, their campaign was run by an automated PPC tool for which they spent $399 monthly as usage fees. Our customer did not have the resources and expertise in house to optimize the PPC campaign which was burning money at higher rate with less return, the hired us to fix the problem.
Solution
We first analyze the Google Adword campaign and also checked Google Analytics to find clues on what areas to fix, we also did an analysis on how other competitors spent money in that segment and what keyword they bet on, to our surprise most of the companies locally in that area had poorly optimized PPC campaign and landing pages, we decided to lay down our rules from starch and optimize and test was our approach.
We first removed the small trail keyword which was leading to lot of traffic with no conversions and as the bid cost is high for these keywords we were able to immediately save cost by eliminating or reducing the bidding cost on such keywords. We also optimized the landing pages that reduced bounce rate, entire PPC ad copy was re-written to increase click through rate CTR, other important settings in PPC were activated or disabled and the campaign was monitored on daily basis by our team and further corrected were ever required regularly.
Result
With the same budget of $20K per month we could buy around more than 6000 clicks, compared to 4000 clicks earlier at the same time the conversion rate went up to 1.25% compared to 0.5% the client is excited and is looking forward to double spending on PPC & Social Media.