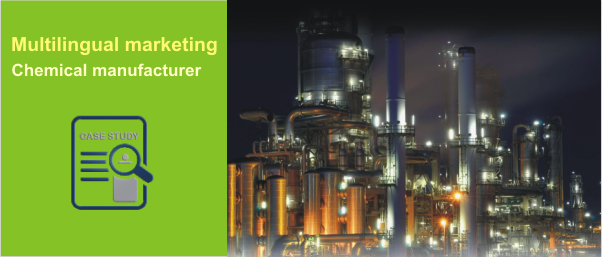 Multilingual Online marketing helps specialty Chemical manufacturer sell across the Globe
Our client is specialty chemical manufacturer based out of Chicago, IL they make epoxy based formulation which is used from Electrical, Electronic to Automotive industry, clients are based from USA to Japan and have sales offices and representatives in more than 25 countries covering all continents.
Problem
They have spent several thousand Dollars last year creating a brand new website, new technical content has been created to educate customers on how their product can increase their product quality and reduce production cost, more technical user data sheet type information is shared over the website, but they have noticed that the readers come mainly from English speaking countries only, there is lot of business potential in Germany, France, China, Korea & Japan which they are not able to tap to the required potential.
Solution
We have been working on multilingual marketing since over a decade and have helped several small to medium size companies increase sales in countries were English is not primary language of business. We created a multilingual website for each country and translated and created content in their native local language, all content was created keeping in view the local keyword search pattern.
PPC and SEO plans were created and implemented in each country of target, mostly local search terms were optimized and in result the client had higher web traffic, visitors downloaded technical data sheets and product technical notes, this help them to generate sales leads from these multilingual domains.
Result
Regional sales in foreign market jumped 200% in 2014 lot of customers are interacting with their Technical support team to learn more about the products, as a result company is expecting to see jump in their sales revenue in 2015 by 400%