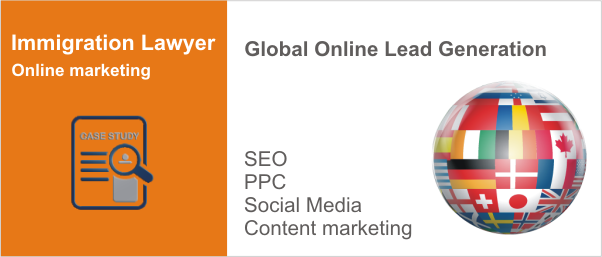 Lead generation for Immigration Lawyers using SEO, Social Media & Multilingual targeting
Today lead generation online is vital part of the any organization, our customer is an top immigration lawyer based out of NYC works with clients in USA and Europe, their clients are mainly top notch corporation who have subsidiaries or offices in USA and needs to deploy work force to support operation.
Problem
Online competition is growing and almost every immigration law firm is spending large amount of money to reach out to acquire new potential leads, business comes within US as well from foreign client base elsewhere looking to hire immigration lawyer in the US. Our client had already an online marketing contract with another SEO company in NYC, but was not satisfied with the approach and the amount of leads which they generated using PPC and they wanted fresh new inputs on how effective they can use new age media to reach out potential customers.
Solution
Firstly we understood how their current marketing program worked and decided to analyze other big players on how they spend their online marketing budget, after research & having data on our hand we could analyze that their competition was using alternate methods in engaging with clients online. We formulated an online marketing statergy engaging our client front end marketing team, ideas included providing latest immigration news, wrote customized FAQ which people search on Google was one way to engage with clients and created a Online marketing strategy around SEO, Social Media and focused on using Multilingual content marketing technique to reach clients looking for immigration lawyer in France, Germany, Japan, etc…
Result
Our team worked 3-4 months to create a presence on social media, got top ranking for money keywords which people would search online and engage readers in Europe and Asia using Multilingual content pages about US immigration law. We measured leads which got generated using phone and email and found 30% increase, mainly serious individual & corporate clients who had money to hire immigration lawyers.