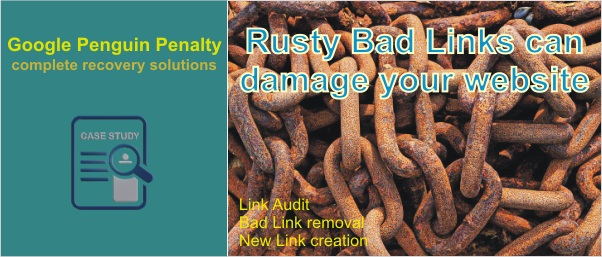 Google Penguin Penalty Recovery solutions for Cosmetic E-Commerce website based in Manhattan, NY
Our client sells herbal cosmetic products of several major brands online within US, his business is 10 years old and has been growing around 30% on year on year basis his unique selling proposition was low pricing and wide range of items available for immediate shipment anytime.
Problem
Our client spent several thousand dollars each month for building links since 2004 and had used several agencies on shore and off shore helping him to get links from different web properties, with the recent Google Penguin algorithm change their website got hit and lost all natural keyword rankings and was manually penalized as well, the client contacted us seeking immediate solutions to deal with the problem. They never had any trace or reports from link builders which had build links.
Solution
We analyzed their website and analytics report allowed us to see a steep drop in organic traffic from Google, we checked webmaster central to further see the back links status to their website, but only few links were shown as bad links, the links were mainly coming for all paid domains or cheap directory listings which led Google to consider it as spam links, we also did a detail independent link audit to understand how was the back link flow and then we examined and identified each link based on good link building practice guideline and made a detailed recovery plan.
Deleting any back links is a tiresome process and one has to take lot of pain and effort as we have to login on each property and delete each links manually, most of the paid links did not had any login access so in such case we emailed and phone called each webmaster across the globe and requested them to help delete the back links, in most of the cases it took several attempts to get the links deleted, links built years ago were lying on abandoned websites or webmasters never looked back to such sites after some period.
While Google identified only few links as "bad links" and our independent link audit discovered around 400+ links, we decided to delete all links labeled as bad and started a new link building campaign using meaningful content and distributing at legitimate websites. In ever changing web scenario we know that what we build today would be obsolete in the future but as our client wants us to manage the link campaign for next few years we will continue to monitor such links and if required we will delete them thus avoiding piles of bad links which becomes noticed easily by search engines.
Result
It took couple of months to clean bad links and then we executed new link strategy was put in place and we could see improvements in first 4 months, there was an increase organic web traffic, after analysis we found the website ranked for several short trail and long trail keywords the traffic flow is gradually increasing, while writing this case study we still build new links with good results.