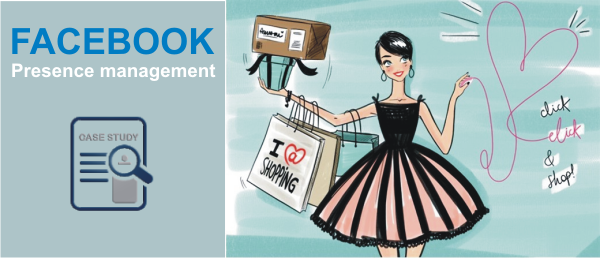 Facebook presence management for an online Clothing retailer
Our client is a top online European retailer for woman clothing products, they started selling way back in 1999 when people did not do much shopping online, from an small online retailer the brand has grown to mid size company employing around 100 people in the US.
Problem
The brand was 100% dependent on online sales only has no physical retail shop, their growth was average of 15% each year, as the time passed more online players increased selling clothing product, selling clothing online has become more challenging and costly affair today. They wanted to reduce cost on PPC spending and develop other marketing channels to generate more relevant visitors online.
Solution
After evaluating their marketing model we understood that they were fully dependent on Pay per click advertising, agreed selling is quick but does not allow them to reach certain amount of potential customers who don't search Google for clothing. We wanted to tap those people who don't search Google for buying pair of Jeans but are using social tools to connect to friends and family, we developed a full fledge engaging Facebook campaign which was mix of natural and paid, from creating company fan page to displaying their products and generating user interest.
Result
After one year we had created 50K likes on their company fan page, people also shared new arrival clothing pictures on their personal page thus further influencing other connected friends on Facebook, another advantage of Facebook was to engage existing client and using them as brand ambassador as they liked and shared all the new design clothing pictures introduced by the company online. As a result sales increased by 7% first year, this are the new set of customers they sold to otherwise they were not reachable using Pay per click marketing.